Goodreads summary:
Three royal houses ruling three interplanetary systems are on the brink of collapse, and they must either ally together or tear each other apart in order for their people to survive.

Asa is the youngest daughter of the house of Fane, which has been fighting a devastating food and energy crisis for far too long. She thinks she can save her family's livelihood by posing as her oldest sister in an arranged marriage with Eagle, the heir to the throne of the house of Westlet. The appearance of her mother, a traitor who defected to the house of Galton, adds fuel to the fire, while Asa also tries to save her sister Wren's life . . . possibly from the hands of their own father.

But as Asa and Eagle forge a genuine bond, will secrets from the past and the urgent needs of their people in the present keep them divided?

Author Tessa Elwood's debut series is an epic romance at heart, set against a mine field of political machinations, space adventure, and deep-seeded family loyalties.
My review:
4.5/5
Fast-paced, intriguing and romantic. The perfect kind of book!
I loved everything from this novel: the characters, the world, the plot, the romance, etc. While there is in fact a lack of description concerning the world where this story is set, it is undeniably very interesting. There are many different planets and they can fly from one to another pretty much whenever they can, which sounds awesome. The story is quite surprising and kept me anxious to know what would happen next, which is why this could perfectly be read in a single sitting. Then there's the romance. I have found another OTP, that's for sure. It is SO. DAMN. CUTE. I swear. The way Asa loves her sister and would do anything for her family is also very touching, especially since most of the book is based around it. I liked how important family is in this novel, because sometimes we don't even get to know the main character's family in other books, which is thankfully not the case here. Really, this book is a perfect mix of sci-fi, action and romance, all in one.
The only thing I would've changed would be the end, because it felt really rushed and abrupt to me. I was seriously expecting a sequel when there were about two pages left, because I thought it would be impossible to conclude everything in such a small number of pages. Unfortunately, I was wrong and I'm not even sure there's a sequel planned. Let's hope 11:11 helps me with this situation, or I might die waiting for the sequel I will never have gotten - very sad.
Overall, this is a great novel. I can't wait for it to come out so everyone can read it and hopefully love it as much as I did. Also, fingers crossed for the cover, because it better be a good one!
(Inherit the Stars is out on December 8th, 2015. Thank you NetGalley for providing me with a digital copy of this book in exchange for an honest review.)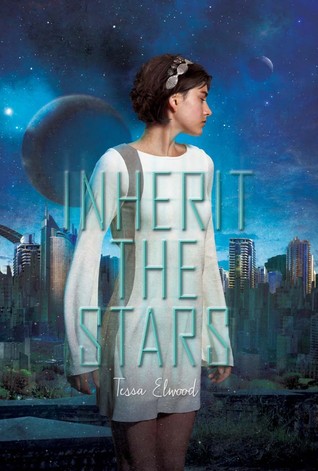 I did an interview with the author, Tessa Elwood. She's such a nice person! If you haven't read it yet, you can find it
here
.