Nothing pleases adventure-travel writer, Linda Ballou, more than seeing gorgeous country from the back of a good horse. Her articles have appeared in Equus, Horse Illustrated and numerous travel magazines. Being a stowaway on a cross-country course in Ireland is detailed in her story Irish Mist which was included in the anthology Why We Ride with a forward by Jane Smiley. She is also the author of Lost Angel Walkabout-One Traveler's Tales, and Wai-nani, A Voice from Old Hawai'i an historical novel that transport the reader to the Islands as they existed prior to missionary contact. The Cowgirl Jumped Over the Moon which takes you from the show jumping arena to the high Sierra and back is her first "new adult" novel. I recently interviewed her and became very interested in her personal story, so keep on reading to discover what an amazing person she is! If you haven't yet, you can read my review here.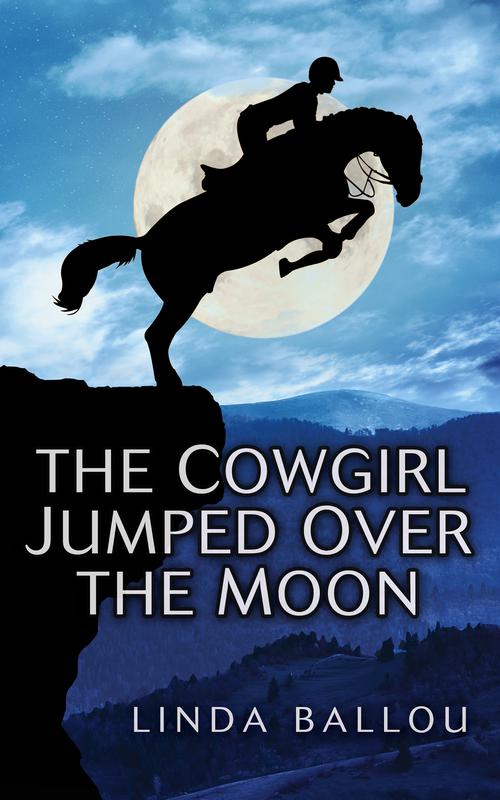 What inspired you to write The Cowgirl Jumped over the Moon?
LB: I was crawling from my bed to the refrigerator on my knees for about six weeks due to extreme nerve pain when it occurred to me that I had to do something, or I was going to go crazy. I was told that I had to give up riding, give up my mare and that if I was lucky I wouldn't have to have surgery on my back. Crying didn't help much. Writing this story took my mind off my predicament and the tremendous sense of loss I was feeling. John Muir's book My First Summer in the Sierra prompted me to take a couple of horse pack trips into the Eastern Sierra's that imbued me a deep love and respect for nature. Many of the details in this story were collected on those journeys. I always wanted to return and trail solo in the high country, but had to let Gemcie do it for me. Writing Cowgirl was a big part of a healing process for me. I gave my mare to Hearts and Horses where she helped with handicapped children. When I was able to walk again, I went on to become a travel writer with a penchant for guest ranches and International riding treks. .
What were the challenges (research, literary, psychological, and logistical) in bringing it to life?
LB: While I was writing Cowgirl I was reading On Writing by Steven King, considered by many to be the best book written on the subject. I didn't realize until I reached the last chapters that he too was writing to distract himself from the tremendous pain he had to endure while his body healed from an accident. I didn't know that he had been run over by a van and that he had extensive injuries that made my garden variety herniated disc seem like a cakewalk. Feeling connected to this great writer and his suffering helped me through this very difficult time. As for research, I was immersed in the riding world and had read just about every book written on riding technique, horse psychology. My first published article "The Art of Falling" appeared in Horse Illustrated. After that my byline turned up in Equus, and Western Horseman to name a few. I was doing three-day events at the time of my injury and my whole life revolved around the horse world.
How did you come up with the title?
LB: That's funny you should ask. A girlfriend gave me a t-shirt with that tag over the picture of a cowgirl jumping over the moon on a starry night. It just stuck with me. I always loved the image and cut it out when it was time to toss the well-worn gift away. I wrote the first draft of this story many years ago and that little reminder was pressed inside the journal that contained the notes for the story that has it found its way to fruition.
Are experiences based on someone you know, or events in your own life?
LB: The Mariposa equestrian facility in the story is modeled after what I observed in the celebrity-owned ranches nestled in Hidden Valley in Southern California. I was a groupie at horse shows trying to absorb the courage of the riders like Susan Hutchison, recently inducted into the 2015 National Show Hunter Hall of Fame. I so admired Susan's riding skill and bravery that I kept her foremost in my mind while writing the riding scenes in the book. She is the protégé of the legendary trainer Jimmy Williams, who I was privileged to interview in 1993, not long before his passing. The character Billy is modeled after this authentic "horse whisperer," who was a giant in the riding world.
If you had to choose, which writer would you consider a mentor?
LB: I actually have two authors that I admire. Tim Cahill, author of nine adventure travel collections, is my travel-writing hero. I went to his home in Livingston, Montana to interview him. The outcome of that conversation is in my book Lost Angel Walkabout-One Traveler's Tales. Jack London, the master of adventure writing, said that desire incited struggle followed by action creates character arc. He wrote in a crisp, succinct manner that I love. In my piece Jack London and Me I talk about how my personal path and that of one of America's finest writers have crossed.
What book are you reading now?
LB: Mustang-The Saga of the Wild Horse in the American West by Deane Stillman. This book provides a comprehensive history of the horse from the beginning of time to the present with focus on the wild herds of mustangs that still roam 10 western states in the U.S. I became interested in the plight of the herds that are being rounded up by the Bureau of Land Management in response to ranchers whose cattle are competing with them for natural feed resources. It seems the answer is to exercise birth control in the herds. This is more humane than the slaughter house, but will eventually cause the wild horse to go extinct if it is effective.
What are your current projects?
LB: I am an adventure-travel writer with a host of articles on my site. I am anxious to get back to taking great trips and writing about them. In September I am spending time in St. Croix in the American Virgin Islands with Sharon Pohl who has invited me to test drive the Wellness Week for Equestrians she plans to offer. Sharon's site www.Zealoushorses.com (in the pre-launch stage) will provide many exciting tips for horse lovers including a couple of my articles on horse treks I've taken.
What was the hardest part of writing your book?
LB: It was physically difficult because I had to write it standing up at my breakfast bar. Sciatic pain in my right leg would not allow me to sit for any length of time. Like a shark I couldn't rest and had to keep moving. Deep emotions over the loss of what I cherished washed over me during the first raw draft. I needed to put the story away for many years. Still, I loved the characters and the environmental message delivered through Brady's actions became more important to me over time. It took huge self-discipline for me to steal a nine-month chunk out of my life to focus on getting the story right, but I needed to finish what I had started. Reader response is making me feel that it was worth the effort.
Have you ever hated something you wrote?
LB: No, but I wrote a story that everyone who read it hated. It was a short story about the controversial use of an anti-rape device. I thought my story leveled the playing field, but apparently it flattened it and offended readers male and female alike. I finally put it back in my drawer and will never share it again. However, in my mind it remains one of my best efforts.
Do you have any advice for other writers?
LB: Writers write. Builders build. Surgeons cut. If you say you are a writer then write. Keep notes of your stay on the planet. Journal about your experiences. Reflect upon what you see and try to capture the essence of it in words as a painter tries to capture it in colors and images. You will not remember the details that make a story vibrant. You have to write your impressions and feelings down as you go along. Then when you have time to organize your thoughts and know what it is you are trying to say you can go back to your notes and extract details that will enliven your work. Don't wait to be a writer. Life go goes by too fast. Simply be a writer and see what happens.
Thank you for answering!
Adventure-travel writer, Linda Ballou, calls Topanga, California home. She shares Great Outdoor days in L.A, as well as a host of travel articles on her site, along with reviews of her books travel memoir, Lost Angel Walkabout-One Traveler's Tales, her historical novel Wai-nani, A Voice from Old Hawai'i and her latest action-adventure novel The Cowgirl Jumped over the Moon at-www.LindaBallouAuthor.com. Her quest today is to get to as many beautiful places as she can before they are gone. Subscribe to her blog www.LindaBallouTalkingtoyou.com and receive updates on her books, and travel destinations.
Here's the book trailer for The Cowgirl Jumped Over the Moon: